The Occupational Safety and Health Administration was established within the Department of Labor and authorized to regulate health and safety conditions for all employers. (Similar state agencies may augment or supplant OSHA.)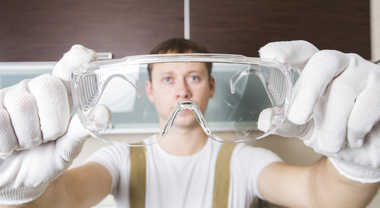 OSHA was created to:
Encourage you and your employees to reduce workplace hazards and implement or improve existing safety and health standards.
Provide research in occupational safety and health, and develop innovative ways of dealing with such issues.
Establish "separate but dependent responsibilities and rights" for you and your employees for the achievement of better safety and health conditions.
Maintain a reporting and record-keeping system to monitor job-related injuries and illnesses.
Establish training programs to increase the number and competence of occupational safety and health personnel.
Develop mandatory job safety and health standards and enforce them effectively.
And here's the "general duty clause" that says if there aren't specific standards to address a given situation, you are responsible for following the intent of the act. It states: "each employer shall furnish to each of his employees employment and a place of employment which is free from recognized hazards that are causing or are likely to cause death or serious physical harm to his employees." It is this clause that allows OSHA to issue citations and fines.
Although all companies have to consider safety rules, in some businesses where injuries are common, like restaurants, it's especially important.
You are responsible for keeping employees informed about OSHA regulations and the various safety and health matters that involve them. One thing you can do: Post materials from OSHA concerning employees' rights and responsibilities, with copies of OSHA citations for violations of standards so employees can see that the violations were abated.
Sometimes, OSHA or NIOSH — the National Institute for Occupational Safety and Health — research activities require you to measure and record employee exposure to potentially harmful substances. Other times, you can expect workplace inspections that OSHA conducts to enforce its standards, focusing on imminent danger, catastrophic or fatal accidents, employee complaints, programmed high hazards and reinspections.
If a violation that wouldn't cause death or serious physical harm is found, the maximum proposed penalty is $7,000. If you've made no reasonable effort to take care of a hazard, the penalty could range from $5,000 to $70,000. On reinspection, if nothing was changed, you can be fined up to $70,000. If you fail to correct any violation, you could be facing civil penalties of up to $7,000 per day until it is abated.
Other regulatory violations and penalties include:
Falsification of records, reports or applications — $10,000 and/or six months in jail upon conviction.
Violations of posting requirements — civil penalties of up to $7,000.
Assault of a compliance officer or resisting, opposing, intimidating or interfering with a compliance officer — not more than $5,000 and/or three years in jail.
Conviction of a willful violation that results in the death of an employee — $250,000 and/or six months in jail, and corporate fines of up to $500,000.
Note that the nature and amounts of fines can change.
Practical Help
If OSHA inspectors come to your place of business, here are some suggestions for working smoothly with them:
Answer questions truthfully without directly admitting guilt.
Don't offer information unless it is asked for.
Be courteous.
Don't discuss political views regarding OSHA or the federal government.
Before an OSHA compliance officer arrives for an inspection, he or she will conduct an opening conference. The officer will explain why he or she is there and what will happen next. You can ask the officer to wait while you assemble the appropriate people for the opening conference. A walk-through inspection will follow, with a discussion of the outcome and a plan for action if needed.